Contributed by Julie Nestor, Vice President Consumer Marketing, American Express
Over the last couple of years you may have read about, or experienced, changes banks made to their rewards credit cards. Many reduced earn rates and some imposed caps on the number of points you could earn.
Largely this was a result of new regulations introduced by the Reserve Bank on 1 July 2017, for banks issuing credit cards.
While at first glance it might seem that credit cards' rewards have lost their shine, with a bit of research and knowing what to look for, you'll see that's not necessarily the case.
With over 400 choices in the market, where do you start?
Create a shortlist
The first step is finding a card that's right for you. With so many credit cards in the market this can seem daunting, but taking the time to work out your spending habits and what your ultimate goal is will help you make this decision.
When looking for a credit card, ask yourself simple questions about your spending:
Do you do a big grocery shop every week?
Do you drive long distances for work or pleasure?
Are you prone to a bit of retail therapy?
Are you a frequent traveller?
Answering these will help you shortlist cards that give you preferential rates at the places you spend the most – for example, the supermarket, petrol pump, department stores or on flights and hotels.
Once you've considered where you spend, think about how you'll want to spend your reward points once you've earned them. Credit cards are often tied to the issuer's rewards program or to an airline's frequent flyer program.
If you earn an issuer's reward points, this can give you more flexibility in how you want to spend your points – for example, with American Express Membership Reward points you can pay off purchases, use points to shop directly at online stores or transfer them to up to nine airline programs (depending on your card of course).
If you are looking for a card that earns frequent flyer points, consider if you are airline agnostic or loyal. Do you fly with one airline or a few? Do you have a set destination in mind?  Some cards are tied to a specific airline, while others allow you to transfer your points to several different partners so consider if you need this flexibility.
Finding The One
Once you have shortlisted the cards that suit your needs, there are other factors you should take into account.
Do the math: look closely at how far you can get with your spending. Some cards offer double the amount of points on the same spend, and others have better rates when it's time to redeem them. Also look out for cards that have no cap or points expiry. You don't want to save your points for a special trip, only to find they have expired when you go to use them.
Look out for bonus sign up offers: keep an eye out for sign up offers that will give you a head start on your points balance. Some cards will get you the equivalent of a flight to the United States on signing up, which can far outweigh the annual fee.
Consider the extras: look at the extra benefits a card comes with – complimentary travel credit, smartphone screen insurance, travel insurance or airport lounge access could save you hundreds of dollars a year. Some issuers also offer access to exclusive experiences, such as pre-sale ticket access and VIP events.
Check the convenience factor: if you're like me and take your phone with you everywhere, see if the card comes with mobile wallet capability to easily tap and pay for purchases. American Express offers all three leading mobile wallets, Apple Pay, Android Pay and Samsung Pay, without the need of a pin on purchases over $100.
You've found the card…now use it
The biggest mistake with a rewards credit card is saving it for rainy day purchases and not maximising earning potential by using it on everyday spend. As long as you pay your balance off each month and don't accrue interest, choosing a rewards credit card over cash or a debit card can be a savvy way to pocket points quickly.
Bills are also a good way to be rewarded for a necessary expense. Most credit card issuers don't pay any points on BPAY transactions, so pay your bill with your credit card directly and you'll receive points as you usually would. If you've got to pay bills, you might as well be rewarded for it!
Another tip for earning points quickly is offering to pick up the tab at group dinners and simply ask your guests to pay you back their portion.
Essentially it's not about spending more, it's just about re-directing your existing spend through your card to ensure you're maximising the return, which means you could be on that flight sooner than you thought.
About Julie Nestor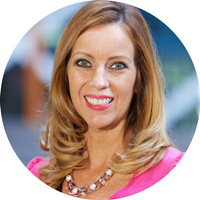 Julie Nestor is the Vice President Consumer Marketing at American Express. She has over twenty years' experience in marketing and general management roles across agency, telecommunications and financial services industries. Julie joined American Express 12 years ago where she has held numerous marketing, partnership and general management positions. 
Julie led the partnership with Apple Pay, Samsung Pay and Android Pay to deliver mobile wallets to Amex card members and continues to pursue a digital first strategy to ensure that American Express is at the forefront of digital payments and capabilities.