Hyatt Hotels' stock price has jumped 50% over the trailing 12 months
That is great, but there are troubling signs that the company is falling behind the competition
Worse, recent moves by management have alienated the one hospitality factor that counts most: traveler loyalty
This article is Part III of a look at the lodging / hospitality industry. In Part I, , I provided an overview of the industry: the differences between owners of the physical lodging properties and the management companies that actually train the staff and do the hiring, firing, maintenance and so on. The third leg of this triad consists of the big "flags" like Hyatt (NYSE:), Hilton (NYSE:), Intercontinental (NYSE:), Marriott International (NASDAQ:), Wyndham Worldwide (NYSE:) and Accor (PA:) SA (OTC:) that bring the guests to the properties even though they seldom own the hotels themselves. It's a good place to begin if you want to understand this rapidly-consolidating industry.
In Part II, , I discussed the latest assault on hotel profitability: the rapid growth of Airbnb, VRBO, and online travel agencies (OTAs.) I concluded that most hotel owners, managers and branders were doing the right things to stay on the green side of the grass. I also recommended a hotel property owner I think is particularly well situated to survive and grow. You may find that article a valuable preamble to today's discussion as well.
In this article I'd like to circle back to a company that I do not see as keeping up with industry trends; indeed, I see them doing a lot of things wrong. That company is the once private, then publicly-traded, then private again, and now public again Hyatt Hotels Corporation (H).
It pains me to reach this conclusion; Hyatt instituted its frequent guest program ("Hyatt Gold Passport") in 1987, 30 years after Jay Pritzker began the company with a purchase of a motel, the Hyatt House, at Los Angeles International Airport. Jay Pritzker was a legendary dealmaker and his brother Donald a fine manager and soon other purchases of lodging properties followed.
Hyatt enjoyed good profitability as well as good growth, both domestically and internationally. I was just ending my career as a road warrior in 1987 when I chose to make Hyatt my personal first choice of flag hotels. Now retired from a large company running my own business, no corporation pays for my stays. Because of their fine properties and stellar service, Hyatt has until recently simply been my go-to-first hotel company for both business and leisure travel.
I should be clear that the actual Hyatt-branded and often Hyatt-managed hotels are not the problem. In the USA, the company's Hyatt Regencys, Grand Hyatts and Park Hyatts compare favorably to luxury hotels anywhere. Having been a guest in many Hyatt competitors' top offerings, I still find these Hyatts among my top stays and recommend them to others for a special vacation or business treat. I imagine you will recognize many of them, and see why Hyatt until recently has done so well:
Grand Hyatt Kauai
Grand Hyatt Seattle
Hyatt Carmel Highlands, a stately older property with amazing views of the Big Sur coastline
Hyatt Regency Sonoma Wine Country
Grand Hyatt San Francisco
Hyatt Regency Westlake CA
Hyatt Centric The Pike Long Beach CA
Hyatt Regency Newport Beach, a gem of an older property a 15-minute walk to Balboa Island
Hyatt Regence Mission Bay San Diego
Hyatt Regency Lake Tahoe
Hyatt Regency Scottsdale
Park Hyatt Beaver Creek
Hyatt Denver Tech Center – a great south town location, perfect for business
Hyatt Regency Lost Pines (near Austin TX)
Hyatt Regency Hill Country (near San Antonio)
Hyatt Centric French Quarter & Hyatt Regency, both in New Orleans
Grand Hyatt Tampa Bay, FL
Hyatt Regency, Coconut Point, FL
Hyatt Regency Orlando Airport – the only "special" airport hotel. After flying all day from the West Coast nothing beats taking a walkway, then an elevator to your hotel.
Hyatt Regency Grand Cypress, Orlando FL
Hyatt Regency Coral Gables, FL – a perfectly situated and quiet old-world delight
Hyatt Regency Atlanta – Portman-designed, opened in 1967, still a wonder with its 22-story atrium lobby
Hyatt Regency Fairfax VA – some rooms on the 3rd floor feel like you are in your treehouse
Hyatt Regency Reston VA – In "town" – but it's a compact happenin' little town
Grand Hyatt Washington DC
Hyatt Regency Baltimore Inner Harbor – walk to Camden Yards, Little Italy and the National Aquarium
Hyatt at The Bellevue, Philadelphia
Grand Hyatt New York
Hyatt is not nearly as strong internationally as many of its competitors but it still has some legendary properties. I will miss them all, US and global, given that I am unlikely to continue staying at Hyatt-branded properties as often – for the reasons I list below. As for some of the company's fine international locations…
The Churchill in London, overlooking Portman Square (NYSE:)
Hyatt Paris Madeleine. Hank heavens they dumped their sub-standard Louvre property. The Madeleine more than makes up for that. A great place to watch the world go by.
Park Hyatt Hamburg – not much for touring in Hamburg but the hotel, ah, this hotel
Grand Hyatt Berlin
Park Hyatt Vienna
Grand Hyatt Erawan Bangkok – When I was a US air attaché to Myanmar I often had to cool my heels here while the Burmese government fussed and fidgeted. I never minded!
Grand Hyatt Singapore
Grand Hyatt Hong Kong
Grand Hyatt Melbourne
Honorable Mention to the now-departed Hyatt Regency Auckland NZ – not sure who brands it now – and to a Hyatt "House" (a Hyatt limited-service mid-brand) at Schiphol airport, Amsterdam. It may as well have been a Hyatt Regency and it serves a magnificent breakfast and is just a 15-minute train ride into way more crowded Amsterdam.
Speaking strategically, Hyatt missed a critical opportunity at the end of 2015 when the company announced it was in talks to acquire Starwood Hotels. This wasn't exactly Jonah swallowing the whale but Starwood was bigger than Hyatt (at the time Hyatt owned just over 600 properties and Starwood owned more than 2000.) Regrettably, Hyatt couldn't come to terms with Starwood and let them get away. Marriott immediately stepped in. Today, Hyatt has some 750 hotels worldwide with about 70,000 rooms
Marriott now has more than 6,200 hotels with more than 1,200,000 rooms.
There are two flags that have even more: Choice Hotels Intl (NYSE:) with just under 6,600 hotels (but just 500,000 rooms) and Wyndham Worldwide (WYN) with 8,200 hotels—9000 when they complete their acquisition of La Quinta – and 710,000 rooms – 800,000 including La Quinta.
The reason for such a disparity between number of rooms per hotel in the case of CHH and WYN is that both specialize in economy and mid-scale brands like Choice's Econo Lodge, Comfort Inn and Sleep Inn and Wyndham's Days Inn, Knights Inn and Super 8. This approach is profitable, just not as profitable as the luxury flags' offerings and the extra income that comes from food and beverage sales, conferences and other amenities.
For comparison, Accor (ACCYY,) Hilton (HLT) and Intercontinental (IHG) also have between five and eight times the number of hotels under their flags than Hyatt does.
In the hotel business, size matters. Presence matters. Loyalty programs matter. Hyatt risks becoming a footnote in the hotel industry unless they can rapidly expand or join forces with another firm. They have a plan in place to grow by 40% over the coming couple years. That still leaves them a smaller player than Carlson or Best Western.
Yes, Hyatt has ownership of, a management relationship with, or a branding agreement with some amazing properties however—those properties will still be amazing under some other hotelier's nameplate.
Hyatt's failure to achieve the economy of scale of its erstwhile peers, preferring short-term profits to long-term results, has affected the bottom line, of course. Return on Invested Capital is the lowest of its peer group above. Gross margins are the lowest of the group except for Marriott, which is still digesting Starwood. Operating margins are also the lowest of the group and Net Margins the worst of all except Hilton, whose numbers may be skewed short-term as a result of the spinoff of Park Hotels (NYSE:). Hyatt is also the only one of the group that pays no dividend.
If we view the company in relation only to its own numbers, which current management seems to be doing, Hyatt is doing OK. But we cannot view a company in a competitive industry like this in a vacuum. If I am in a marathon beating my own previous best time but everyone else has upped their game at twice this rate and are leaving me in the dust, it is time for some serious soul-searching.
To further our understanding of this insularity, let me cite some key thoughts from management via their most recent (November 2017) investor presentation:
Under "Key Investment Considerations" the company cites "Owner, manager and franchisor, uniquely focused on the high-end traveler."
"Uniquely focused?" Look, I wish Hyatt no ill. I want them to survive. And I have been a guest at more than 130 of their discrete properties, including lots of Hyatt Place and Hyatt Houses in order to earn the points to stay at some Park Hyatt properties. I have also stayed at some Conrad and Waldorf Astoria hotels (Hilton), Sofitel and Fairmonts (Accor) and Westin and Ritz-Carltons (Marriott). As long as Hyatt fails to recognize that deeper-pocketed competitors with better geographic dispersion are also seeking "the high-end" (read: spends more) traveler they will dig themselves further into a cul-de-sac.
A couple slides later they talk about their 12 brands but only show 10. I discovered the other two: the Unbound Collection, a collection of "boutique hotels" and a relationship of some sort with Oasis, which deals in private home rentals. This is where they also placed the aforementioned noisy, creaky, but well-located Hotel du Louvre I thought they had sold. Then there are the Hyatt Residence Clubs, a fancy term for overpriced timeshares. More on this later.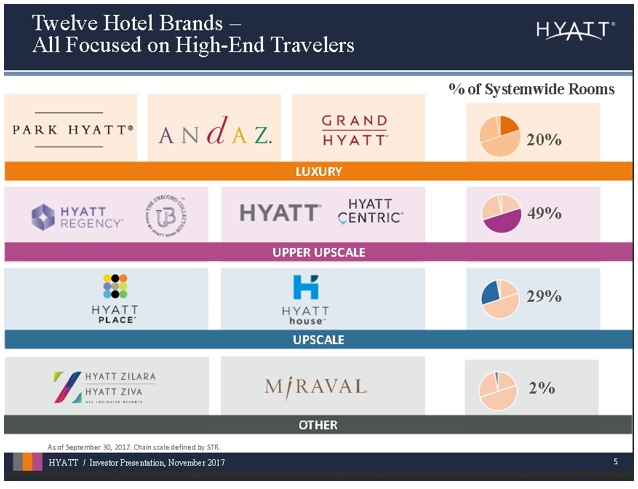 Hyatt Brands
Source: Hyatt Investor Relations
As for Hyatt's notion of "luxury" I couldn't agree more about Park Hyatt and most Grand Hyatts. But Andaz? I've stayed in three, two of which were converted to Andaz from Hyatts I previously enjoyed. They are staffed by persons in the Abercrombie and Fitch (NYSE:) mold. Check-in consists of staff looking down their sniffly little noses in the classic "Are you certain you belong at an Andaz?" look, followed by a "Very well, I suppose you paid so we shall deign to give you a key" half-smile. It's supposed to be hip and trendy. It doesn't work.
I will accept their "Upper Upscale" moniker as well, but a Hyatt Place upscale? "Focused on high-end travelers?" Really? These are very nice rooms and fulfill the old Holiday Inn pledge of "no surprises." I've stayed at for a fair price and a good location. But I don't see dining cheek-by-jowl for a nothing-special breakfast in a too-small dining area upscale. I'm not being picky here – I am simply concerned that if this is what Hyatt considers upscale they are wearing rose-colored glasses.
Further on, they discuss "Recent Activity." I applaud their capital strategy of selling $1.5 billion of gross real estate assets. The problem is they are years late in so doing. This is a trend well in force already by all their competitors – see Hilton's spinoff of 67 touchstone properties worth $9 billion to form Park Hotels and Resorts (PK). As for brands, they note they acquired Miraval and exhale "including three resorts" from Miraval. Marriott is acquiring thousands of rooms, Hyatt is buying three resorts.
Then they talk about share repurchase as if that is somehow germane to their future plans. Mixing apples and oranges, they talk corporate strategy and stock price in the same breath/ What are they thinking? Who is in charge here?
Which brings me to the real problem: drifting. What does Hyatt stand for these days? It was once "The Hyatt Touch." Friendly and capable staff, well-maintained rooms, and quality touches throughout in fine locations. At Andaz, they are clearly "touched" but that is hardly the same thing. The Hyatt was where, if you ran out of shave cream they didn't direct you to the gift shop, they brought some up. If they failed to deliver a newspaper they just said, "One moment. I'll get one from the bell desk for you." The little things. The Hyatt Touch.
That is no longer in evidence at many properties. It is now about the money. I expect to pay more for a Hyatt Regency than a Hyatt Place. But no more. If there is a Hyatt Regency at 85% occupancy a couple miles less desirable and a Hyatt Place at 95% occupancy where it is most convenient for most travelers, you might find the Regency at $145 and the Hyatt Place at $245. Hyatt cannot train guests to believe in their "tiered pricing structure" then violate it whenever they can make an extra buck.
With this airline pricing of rooms (whatever the traffic will bear, which all chains use to a certain degree) Hyatt is making more money in the short term but destroying both guest loyalty and traveler certainty of finding no unwelcome surprises. More on all this when we come to the qualitative problems but first "the numbers:"
Hyatt has also gotten deeply into the timeshare business. Some of our favorite old resorts that had the room to expand have seen the hotel on that property shrink and the timeshare, which Hyatt of course prefers to call the Hyatt Residence Club, take over many of the rooms. (These are typically multi-building properties or those with contiguous land available.)
I understand the benefit of timeshares to the seller – you get a big chunk of cash up front and can then charge high maintenance fees, too. I understand the profit motive and certainly Hyatt is not alone. But the others with timeshare / vacation clubs, like Hilton and Marriott, are upgrading their hotel properties and loyalty programs as well.
It is in this last area that I see Hyatt really shooting itself in the foot. They have long had a fine loyalty program called "Gold Passport." In 2013, 2014 and 2015 Hyatt was awarded the Freddie Award (see freddieawards – despite the name, hoteliers and airlines take this award very seriously) for best Elite loyalty program. When you win something three years in a row, most people would enhance it or leave it the heck alone.
Not Hyatt. They completely revamped the program. They no longer have Silver, Gold and Diamond levels that have a reasonable frame of reference. The entry-level is now "Discoverist" (not a discoverer but a new made-up word. Someone at Andaz must have dreamed this one up!) Then one becomes, either by staying or by spending more money, an Explorist. Finally, by staying 60 nights per year or gaining "base points" by spending lots of money one becomes a Globalist.
As a Diamond member, one needed 28 separate stays. Nice and simple. And after achieving that level the frequent traveler received room upgrades as the staff had them available, a welcome amenity (like an appetizer or some such,) breakfast for up to 4 persons, and a host of little favors like free newspapers, etc.
I am reminded of the tale of two girls working in a candy shop. One was always more popular than the other even though both had the same charming personality and dealt with customers the same way – except. Except that one girl would always over-fill the whatever size, call it a half pound, of candy, then begin removing pieces to get back to one half pound. With each piece removed, the customer felt as if something was being taken away. The other girl would always under-fill then, to the customers' delight, keep adding pieces. Both always sold exactly the same half-pound.
Take note, Hyatt. You took away the welcome amenity, you took away the unexpected and delightful upgrades, you took away the morning paper, etc. And you replaced it with a program that rewards only those who choose to spend one-sixth of every year in a hotel room (and not just any hotel; only your hotels!) or those who choose to spend wildly on very high-priced food, drink, spa treatments, etc. Present it any way you like; it is seen by the public that you only care about the money.
I am afraid for Hyatt's sake that I am not the only one who won't give my loyalty to any company that doesn't give loyalty in return. There was a conference call to sell this new program last year and management truncated it early because of the furor the changes caused. One of management's weak responses from taking the minimum number of nights to be a "Globalist" from 28 to 60 was that, at Marriott, you need 80 nights. What the senior mucky-muck presenting the new program chose not to realize is that Marriott has nearly 10 times the locations! With Marriott, travelers can find numerous properties no matter where they are.
At Hyatt it seems, at least for their highest tier, they are only seeking expense-account road warriors and not families on vacation, small and medium sized business owners who travel occasionally, or retirees looking to expand their horizons. The benefits that used to accrue to all those are now reserved for those on the road regularly and spending freely.
Of course, most of the time these road warriors are not people spending their own money like families and retirees and small business owners. They are instead on the corporate dime and the corporation has reached an agreement with Hyatt to offer special rates. Once you Pareto Principle yourself into fewer and fewer sources of income, what do you do when Big Company X with 14,000 traveling employees gets a better offer from another hotel chain? Hint: you might lose 14,000 guests with no personal loyalty to you all at once.
So. To answer the question I posed in the title: Is Hyatt Hotels a takeover target or just a short? I have no inside information. Personally, I would not consider shorting the stock. I think Hyatt's properties and reputation for excellence in service make them a juicy target for a competitor looking to extend its high-end traveler portfolio
To stave off such a moment, the Board needs to shake things up. They do have some heavy hitters in their group and a second- and third-generation Pritzker as well. The best time to shake things up was yesterday. The next best time is today. I will not buy Hyatt at its current price and current approach to meeting competitive threats. On a major pullback, thinking like an acquirer and wishing them the best, I certainly would.
PS — If you have your own favorite hotels in desirable travel locations or in business centers, let me know. I am now looking forward to trying new hotels that may be favorites of yours, as will other Investing.com readers!
Disclaimer: Do your due diligence! What's right for me may not be right for you; what's right for you may not be right for me. Past performance is no guarantee of future results. Rather an obvious statement, but too many people look only at past performance instead of seeking the alpha that comes from solid research and due diligence.