Hannah and Chad Janis are a married couple currently flying to 40 countries on business class … for free.
The dynamic duo is pulling this off by maximizing travel credit card rewards. As you might've guessed, anyone who is traveling this much has picked up more than a few dos, don'ts and general tips.
If you want to use credit card points to fund your trips with a significant other — and not break up along the way — allow Hannah and Chad to enlighten you.
Taxes can be taxing
Without a doubt, Chad says, you must be mindful of the taxes.
"Even after redeeming your points for flights, you still have to pay taxes and fees," Chad explains. "For some flights, these fees can be as low as $5. However, depending on the airline you are flying with and the airports you are flying to/through, we've also seen taxes and fees as high as $500."
"This pretty much destroys the value of your hard-earned points. It's important to stay away from airlines that generally pass their taxes and fees onto you, so that you can really maximize the value of your points by paying as little out of your pocket as possible, he says."
» Learn more: How I flew for free: Round trip NYC to India using Chase Ultimate Rewards
If you're thinking of traveling to Europe, Hannah and Chad suggest avoiding British Airways and American Airlines. These airlines often route their flights through London's Heathrow Airport — aka, one of the most expensive airports in the world in terms of taxes and fees, Chad says.
Who likes whom
You should familiarize yourself with airline partnerships, because that's a great way to find arbitrage. Look into the three main airline alliances — Oneworld, SkyTeam and Star Alliance — and research airlines to find out who works with whom.
» Learn more: How to set a trip budget when traveling with friends
Don't be afraid to think outside the box, either. "Sometimes less intuitive airlines offer the best travel rewards rates," Chad explains. "Alaska Airlines offers some of the best rates worldwide. You may book the flight through them, but one of their partner airlines will actually fulfill the flight."
Compromise is key
Hannah and Chad are spending a lot of time together doing what many people consider to be quite stressful — flying and working out multiple travel itineraries. How have they managed to not strangle each other? By understanding the task at hand and meeting halfway.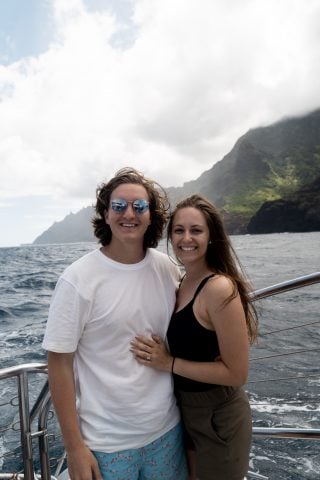 "It's easy to approach traveling the world like you would a vacation," said Chad. "But when travel becomes a part of your everyday life, it's important that you approach it as you would school or a job. Plan activities and experiences to enjoy for 8-10 hours each day, and then give yourself some time to decompress.
"Also, you'll probably have different interests that make traveling special to you. We try to have a balance between enjoying the experiences we both like, and going along with the activities that maybe only one of us would enjoy," Chad says.
Photos by Hannah and Chad Janis.
How to maximize your rewards
You want a travel credit card that prioritizes what's important to you. Here are our picks for the best travel credit cards of 2018, including those best for:
Planning a trip? Check out these articles for more inspiration and advice:
Travel rewards bucket list: Showering on a plane
How to snag credit card rewards flights in peak season
This strategy is how I started earning major travel rewards