Every year, loyalty programs adjust based on customer feedback, usage and what makes sense for their bottom line. Delta Air Lines is making some small changes to the SkyMiles program in 2019, along with one big change that affects all customers flying with the Atlanta-based carrier.
Do the shifts represent a bigger devaluation for customers? It depends, specifically on how much you use the airport lounge, and how fast you want to get on your aircraft.
Lounge access is tightening for many customers
For years, Delta had one of the most permissive lounge access policies, granting entry to anyone who held the right credit card. But starting on Jan. 1, 2019, those policies will tighten up.
On New Year's Day 2019, those who have the Delta Reserve Credit Card will only be allowed to enter Delta Sky Club locations when traveling on a Delta-marketed, Delta-operated flight, or a Delta-marketed flight aboard WestJet and purchased through Delta. If you're flying on a Delta aircraft, or your ticket number starts with 006, you should be able to access the Sky Club at your airport. You can still visit the lounge if you're flying on any other Delta partner airline flight, including those on SkyTeam partners, but it will cost you $29.
»Learn More: When is getting a lounge pass worth the cost?
If you are getting into the Sky Club with The Platinum Card® from American Express, you will only be given access if you are flying on a Delta-marketed or Delta-operated flight. If you didn't buy your ticket through Delta, you may be turned away at the lounge.
Moreover, anyone trying to get into the lounge with a credit card will now have to pay for their guests. Delta Reserve Credit Card cardholders can bring up to two guests, or a spouse or domestic partner and children for the price of $29 per person if they are flying on Delta or a Delta-partner airline. Those who have The Platinum Card® from American Express can also bring in up to two guests but will pay an additional fee for them.
Finally, you can no longer buy a one-day pass for $59 or 5,000 SkyMiles. Delta ended day pass purchases on Nov. 15, 2018, which means the only way for travelers to get into a lounge is through membership, elite status or credit card access.
New boarding system based on ticket type
Flying with Delta in 2019 comes with a new boarding policy, which is directly based on which class of service you are sitting in. On Jan. 23, 2019, passengers will experience an 8-phase boarding process, starting with SkyMiles Diamond Medallion elites and premium cabin passengers, followed by all others.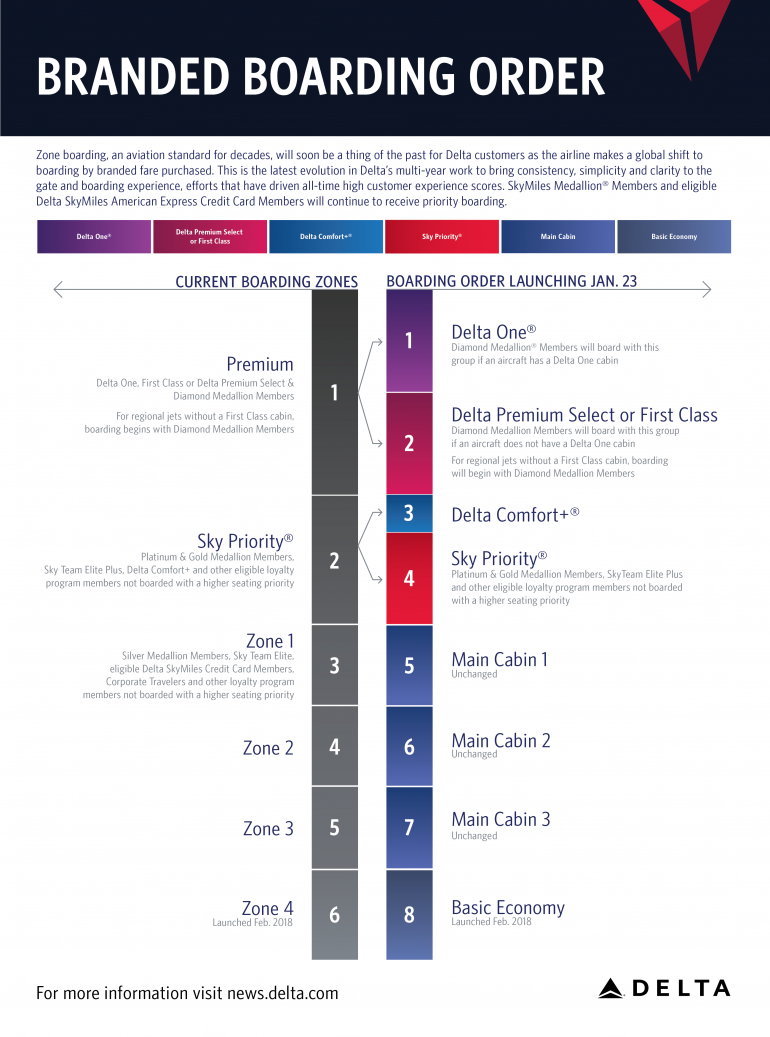 Service classes will be coded by color and will be displayed in the Fly Delta app. With the changes, the airline hopes they will reduce the number of passengers waiting to board at the gate and make the process smoother for everyone.
»Learn More: Delta Air Lines SkyMiles: The complete guide
No more Crossover Rewards with Starwood Preferred Guest
With the official merging of Marriott Rewards with Starwood Preferred Guest earlier this year, regular Delta flyers lost another benefit. On July 15, 2018, Delta and Starwood ended their Crossover Rewards program, which ended status recognition on both programs and bonus rewards earning at both programs.
While Delta was hopeful they could renew a hotel partnership again, it didn't pan out in the end. While Marriott Rewards members can still opt to earn SkyMiles instead of points or transfer their points to SkyMiles, there's no direct partner to receive reciprocal rewards.
Bottom line: is it a devaluation?
For those who hold The Platinum Card® from American Express or the Delta Reserve Credit Card, the changes to lounge access are a serious devaluations. With a steep annual fee of $550 for The Platinum Card® from American Express and $450 for the Delta Reserve Credit Card, the restrictions on who can access lounges when is a pretty major benefit loss.
But with so much changing on other programs, the changes to the Delta SkyMiles program are a minimal shift. Overall, the new changes recognize those who spend more for their ticket – which is the new method of measuring passenger loyalty and earning customer status.
How to maximize your rewards
You want a travel credit card that prioritizes what's important to you. Here are our picks for the best travel credit cards of 2018, including those best for:
Planning a trip? Check out these articles for more inspiration and advice:
Delta debuts starter card for infrequent travelers
Delta is making it easier to use miles for upgrades
How to earn Delta SkyMiles with Airbnb